Extrusion
Polaris Plus liNE
Thinking about productivity of its clients, Carnevalli has developed the Polaris Plus line of extrusions, designed with the highest technology:
Motor reducer connection done in a direct way, using elastic coupling and eliminating the normal power loss of the system;
Higher lifespan due to the perfect temperature control of the process and low threaded rotation;
Less pressure, reducing the load on the bearings and reduction box;
Higher production capacity and significant gains on optical quality of films;
Reduction up to 20% in the expenses with electrical energy.
---
E-40 liNE
Aiming technological innovation, maximum output improvement and simple operation, Carnevalli presents its new E-40 extrusion line, designed to produce plastic film for flexible packaging, processed with LDPE and hDPE resins, with high plasticization quality and excellent output. Particularly suited to produce short-run orders, narrow widths and rolls "star-bottom" type.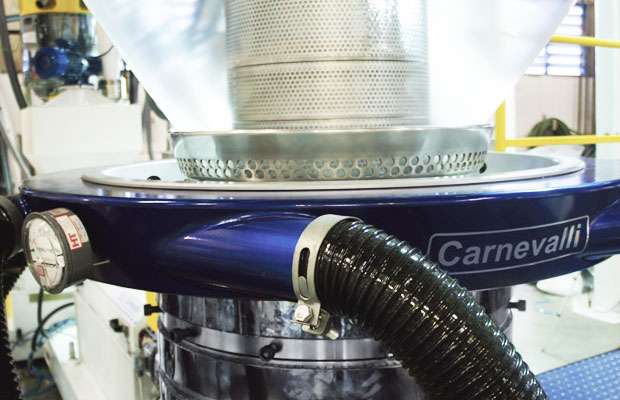 Die-heads and air cooling rings
Carnevalli´s extrusion and coextrusion die heads are designed to produce high quality films with precise reduced thickness variation and tight tolerances, without gel formation, excellent homogeneous structures, quick fluidity of the material. Designed to allow fast change of die GAP and IBC optional. For extrusion, they can be stationary or rotating or Biflex type (double layer AA). For coextrusion, they are stationary, developed with high technology for 3, 5, 7, 9 and 11 layers. Low pressure design heads, plus optional automatic thickness control system, improve film productivity with low thickness variation. The cooling rings developed by Carnevalli use advanced technology in the optimization of cooling of external bubble surface. Carnevalli also supplies machines fitted with automatic air rings, with height adjustment system, allowing up to 50% output gain over conventional systems. These systems are integrated with automatic thickness control, allowing reduction of tolerances up to 50%.
Winders 417
Single or double station winder, via AC drive motor and frequency inverter, pneumatic pressure system on the expandable shafts.
Winders 425
Winder with automatic change, driven by AC motors and frequency inverters. Automatization made by PLC, tension control by load cells and "taper" function.
Suprema GAP
Winder with automatic change, destined for high precision technical films winding. The operation is made by contact or contactless GAP, with gearless drive shafts for high torque and axial stability control motors. Control by load cells, access platform, magazine shaft holder, antistatic openers bristle rollers, operational platform for aligner and corona treater, electric hoists for expandable shafts.