Coextrusoras POD
Polaris plus 5 POD
The benefits with this technology are the use of pure resins in defined layers, reaching high optical quality, great sealability and increased film strength; the total flexibility of the film structure; and significant increase in the production.
3 AnD 5 LAYERs
PoD Polaris Plus
Carnevalli develops and manufactures equipment for the coextrusion of 3 and 5 layers with the highest technology. Its wide variety of sizes, capabilities, components and accessories allow complete fl exibility of projects to meet the different needs of each segment.
The line Polaris Plus produces films with high optical quality, high strength and perfect adhesion between layers through control of the temperature of mass, ensuring an increase in production with decreased power consumption.
Main Applications
High clarity films for stand-up pouches, twist-wrap packaging, automatic packaging;
Lamination and coating films, converter grade films for printing;
Shrink and Stretch films;
Films for promotional bags, t-shirts, garbage bags and others;
Films for heavy-duty application suitable for FFs (Form, Fill & seal-Film).
---
Coextrusoras Pa
5, 7, 9 AnD 11
LAYERs Polaris Plus
The barrier fi lm lines allows from simple structures such as PA/PE to structures with EVOH. With the introduction of 9 and 11 layers lines, it is possible to achieve a wider range of double or triple barrier products.
Main applications:
High-barrier films for milk, meat, fish and food packaging in general;
High-barrier films for special packaging of chemical products such as detergent, ink, varnish and others;
High-barrier films for special packaging of biological and other medicine products;
Polyethylene films with properties that allow for a reduction of the total thickness.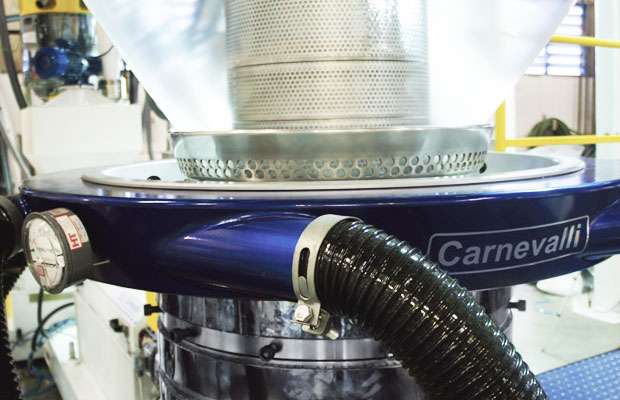 Die-heads and air cooling rings
Carnevalli´s extrusion and coextrusion die heads are designed to produce high quality films with precise reduced thickness variation and tight tolerances, without gel formation, excellent homogeneous structures, quick fluidity of the material. Designed to allow fast change of die GAP and IBC optional. For extrusion, they can be stationary or rotating or Biflex type (double layer AA). For coextrusion, they are stationary, developed with high technology for 3, 5, 7, 9 and 11 layers. Low pressure design heads, plus optional automatic thickness control system, improve film productivity with low thickness variation. The cooling rings developed by Carnevalli use advanced technology in the optimization of cooling of external bubble surface. Carnevalli also supplies machines fitted with automatic air rings, with height adjustment system, allowing up to 50% output gain over conventional systems. These systems are integrated with automatic thickness control, allowing reduction of tolerances up to 50%.
Winders 417
Single or double station winder, via AC drive motor and frequency inverter, pneumatic pressure system on the expandable shafts.
Winders 425
Winder with automatic change, driven by AC motors and frequency inverters. Automatization made by PLC, tension control by load cells and "taper" function.
Suprema GAP
Winder with automatic change, destined for high precision technical films winding. The operation is made by contact or contactless GAP, with gearless drive shafts for high torque and axial stability control motors. Control by load cells, access platform, magazine shaft holder, antistatic openers bristle rollers, operational platform for aligner and corona treater, electric hoists for expandable shafts.